Rose House
BCRC Women's Program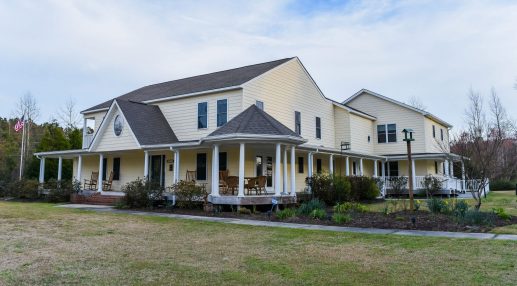 Rose House, early 2020 before construction began for the floor plan extension.
The Women's Campus at Brunswick Christian Recovery Center, Rose House, is a six-month recovery program that incorporates faith based recovery theory, the 12-step process as laid out by Alcoholics Anonymous and Celebrate Recovery, and educational benefits provided through Brunswick Community College. Besides addiction recovery services, one of the main focuses of the Rose curriculum is to provide an understanding of how traumatic experience and different forms of abuse can affect the mental and emotional state of a person, especially in early recovery. Through this process of learning and personal discovery, a resident may begin to build a level of self-confidence that will enable more effective communication and trust between her and the people she encounters on a daily basis. As healing begins to take place, happiness and a new joy is able to become rooted in the heart of any individual through the love of God. We believe that there is no person who is too far gone, and that each resident has the capacity to succeed by His grace and mercy. Residents will have many opportunities to work directly with counselors and the residential care staff. At the end of each phase all residents will be required to complete a "Phase Up" application, which consists of several assignments to mark the growth experienced between each phase transition. The minimum program time is six months, but we do include opportunities for residents to stay in each phase longer if the resident or the counselors feel that they are not ready to move on to the next stage of the program. Each transition delay will affect the graduation date respective to the length of the delay.
The motivational track at BCRC's Rose House is the initial phase that all residents enter upon admission to the six-month program. This time is designed to allow new residents to acclimate to their new environment while bridging the gap between a life of little-to-no structure and their new schedule, which is strictly regulated. Residents in this phase will participate in a schedule that is slightly less rigorous than the main program, and will be provided additional time to rest for their mind and body while they begin the process of physical and emotional healing.
Following the Motivational Track, residents will enter Phase I of the recovery program. BCRC (Rose House) does not offer conventional drug and alcohol treatment or MAT services. Our program is designed to encourage recovery by developing a relationship with Jesus Christ and working the 12-step program. We have proposed a continuous plan of action that incorporates recovery theory into long-term daily living. Residents will work with temporary sponsors and and group leaders to learn how to do a moral inventory, confession of shortcomings, planning restitution for harm done, and service to others. Contact with family is limited during this time to allow each resident to engage in a more personalized focus and to gain an initial understanding of what kind of life change they are seeking before introducing external influences back into their lives.
"For physical training is of some value, but godliness has value for all things, holding promise for both the present life and the life to come."
-1 Timothy 4:8 
After completion of phase I, each resident will be reviewed by staff and senior residents. The areas of review will include spiritual growth, personal responsibility, compliance with rules and regulations, trust, willingness, and active recovery. These areas will be addressed to determine where additional improvement is needed and to determine if the resident will be approved to move into Phase II of the program. In phase II residents will begin to take on more responsibility and will have plenty of opportunities to begin building more trust with the leadership. If a resident determines that they are not ready for phase II they will have the opportunity to delay the transition for a period of up to 21 days.
"If we confess our sins, he is faithful and just and will forgive us our sins and purify us from all unrighteousness."
-1 John 1:9 
During phase III each resident will have an opportunity to spend more time growing as a leader and developing their exit strategy to encourage a heightened sense of confidence in their recovery. We have learned that initiating a well-planned "follow through" is very important to introduce all that one has learned during the program into the rest of their life.
Traditional leadership generally involves the accumulation and exercise of power by one at the "top of the pyramid." By comparison, the servant-leader shares power, puts the needs of others first and helps people develop and perform as highly as possible. We teach and encourage the men to have a servant leadership attitude.
Our hope is that every resident will be able to share their positive experience in an active recovery lifestyle with another person as they find success in their future. We believe that the student doesn't truly learn the lesson until he becomes the teacher.