At CRCI we have had the opportunity and privilege of serving those in our community and throughout the southeast. Below you will see some photos of places we have been and things that we have done. We do what we do because we love it and we feel compelled to serve. Not to mention we have fun while serving! We believe that we are not to just here to help remove the drugs and alcohol from the lives of these men and women, but to replace misery with joy!
For the latest updates and newest photos, please visit our Facebook page and don't forget to "like" us!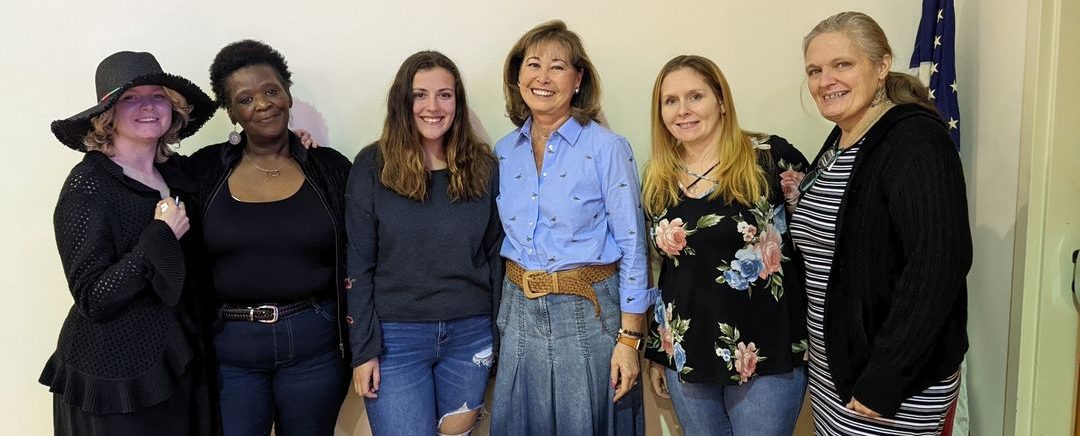 The Rose House ladies were invited by First Baptist Church of Shallotte to attend Sunday service and speak to the Adult Sunday School class to share information on the Rose House. Thank you, Priscilla, for making us feel welcome.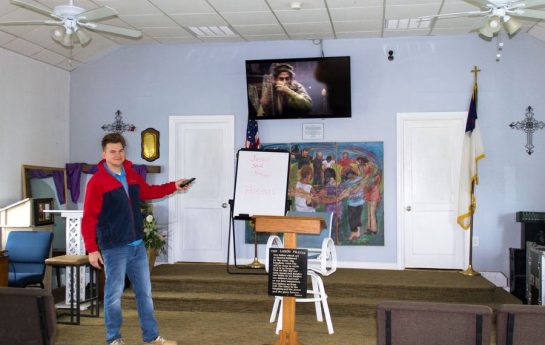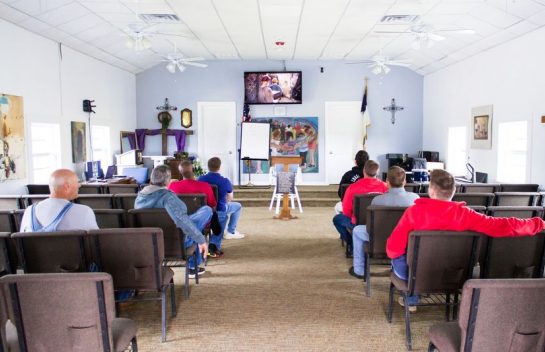 Moto movie day! Sometimes it's nice to take a break from all the meetings, appointments, classes, and trade school hours to relax and watch a movie!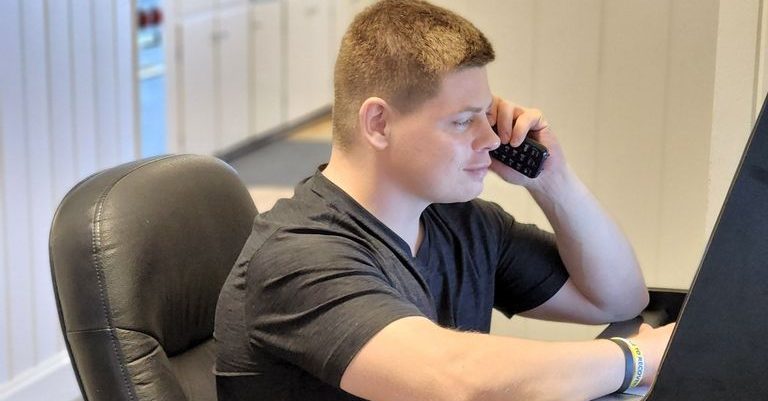 The Leadership Development Initiative (LDI) is a program designed by CRCI to provide a direct path forward for exceptional residents who wish to begin a career in the field of Addiction Recovery. This program is a 1-year commitment that residents may apply for once they have successfully completed the first three phases of the inpatient recovery program. LDI participants will be provided in-depth training in the exact services that have assisted them as residents, and they will learn how to facilitate this type of intensive recovery environment as they move forward as leaders. Educational opportunities and professional certifications will be provided to each LDI participant at no cost through our partnerships with Brunswick Community College, Brunswick Literacy Council, and Peer Recovery Resources. Any person who completes this advanced training program will have the opportunity to apply for a full time staff position at Christian Recovery Centers Inc. to practically apply their experience and education as a legitimate professional.
Pictured is Trevor, who is participating in the first level of the LDI. He is training in the admissions department and is directly assisting callers through the residential program's application process.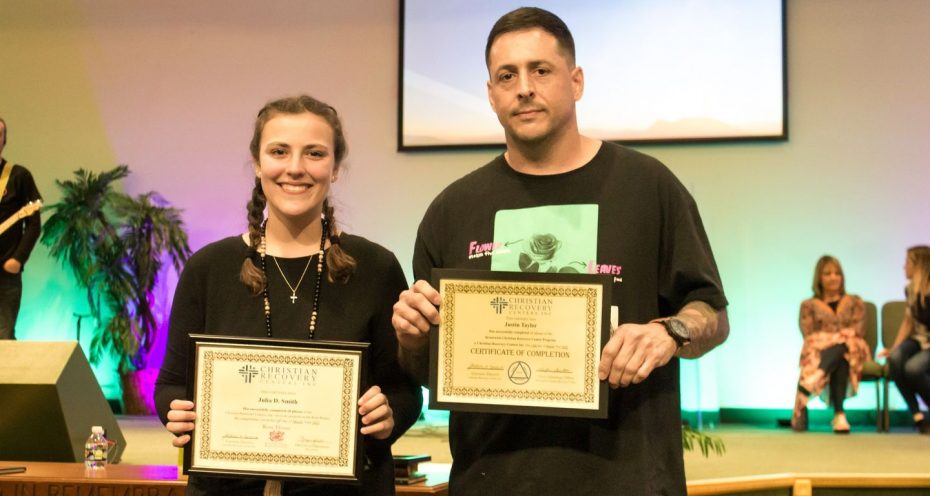 Both Julia and Justin graduated from the CRCI program! These graduation ceremonies we conduct don't necessarily mean completion or complete knowledge of how to manage addiction, it simply means they are transitioning into a new phase of their recovery. Their journey isn't over yet, they still have a lot of learning left!
Please pray for Julia's and Justin's new journey!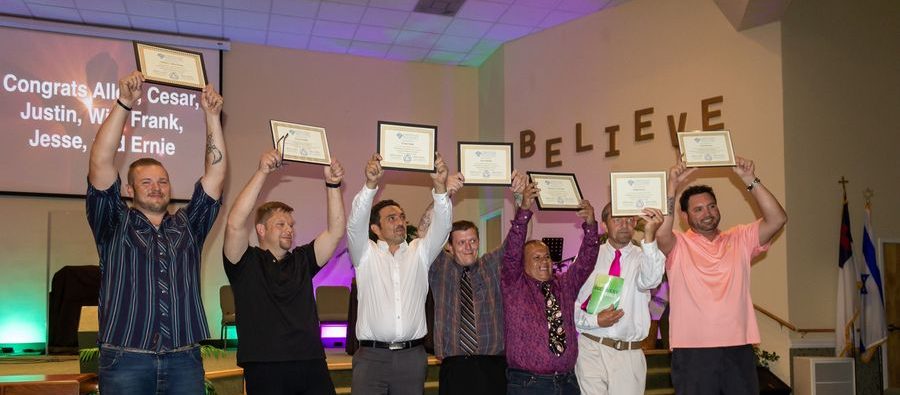 Can you believe it? 7 CRCI program graduates in one night. On this night history was made for CRCI. This good group of men created a tight bond during their time in the program and they all spoke about the tightest bond of all – the one that was found within their savior – Jesus.
A few of the guys are going home to be with their families and a few are staying with CRCI to take part in the Leadership Development Initiative (LDI).
Proud of you, guys!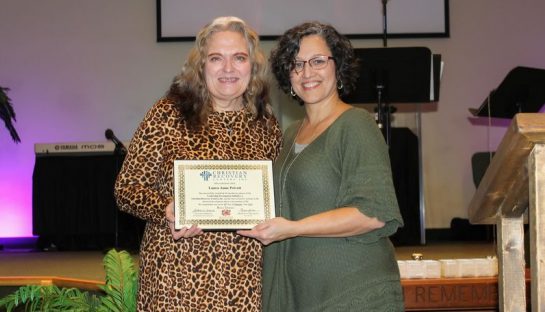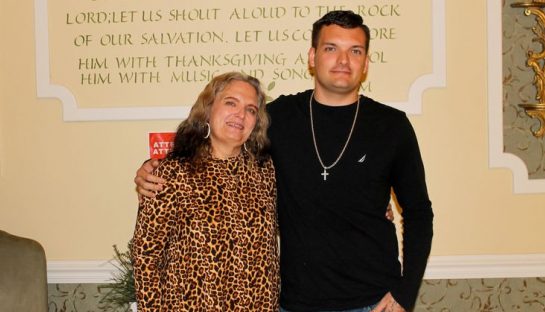 Proud of you, Laura! You graduated from the CRCI program. You've come such a long way since Phase 1. In the beginning you wanted to leave every day but when you went to sleep each night you prayed and the next day you were able to begin again! Lamentation 3:23 They (mercies) are new every morning: great is thy faithfulness. You hung on to the words of the bible and used His strength to help you get through daily. Throughout your stay you mentioned so many times how proud you were of your son who is being successful in recovery himself. Today he was able to sit next to you, hug you, and cheer you on!
Proud of you!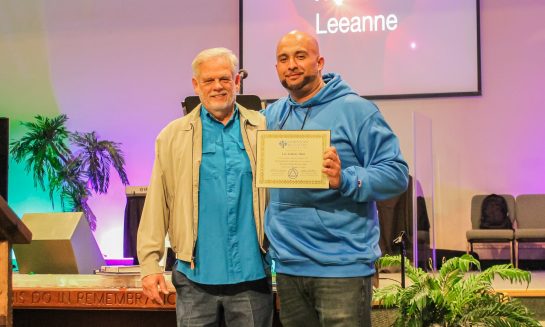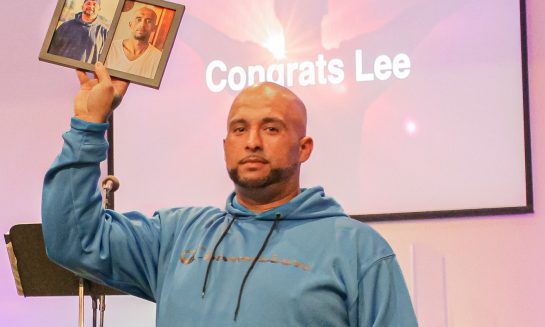 Lee's graduation was 2/21/22! We are proud of you for completing the program! Remember Luke 9:62 "No man, having put his hand to the plough, and looking back, is fit for the kingdom of God."
Proud of you!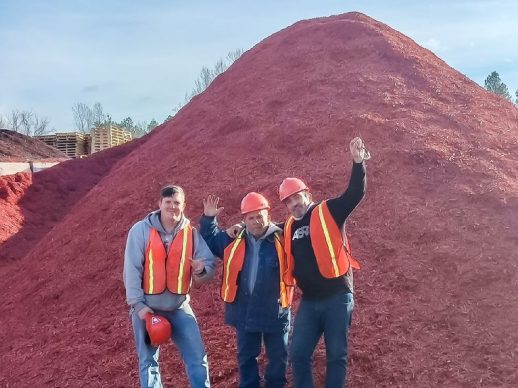 Here the guys are working a fundraising trip at Pallet Express Inc. in Liberty, NC. This is one of many relationships that we've nurtured to be able to help raise money for the treatment programs.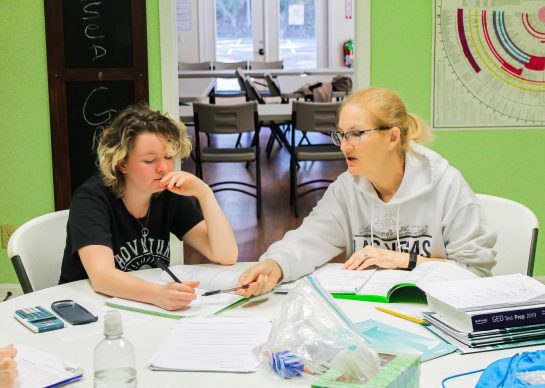 Through our partnership with Brunswick County, NC Literacy Council, we give residents the opportunity to get their GED! We believe education is important and we not only want to help residents get sober, but we also want to give them the chance at a better life. The more knowledge gained could lessen the challenges faced in life and more opportunities will open to allow individuals to achieve better possibilities in career and personal growth.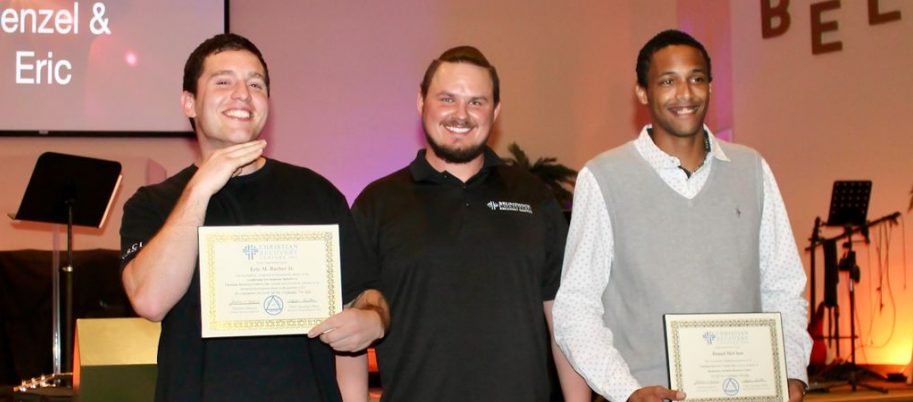 Eric and Denzel officially graduated from CRCI last night! Their family came to support them as they achieved a goal that required a solid work ethic, patience, perseverance, determination, and most importantly motivation to lead a successful life.
Eric is staying with CRCI to participate in the Leadership Development Initiative (LDI). God has opened doors for Eric because he puts God first in everything he does.
Since being in the program Denzel has proudly found himself again, he also found God and learned he could be redeemed and given a second chance at life. Although he gets scared and confused sometimes, he remembers that there is reason and purpose through the struggle, but God will help guide him. Denzel will be returning home to be with his kids and wife again.
We're so proud of these guys! Congratulations!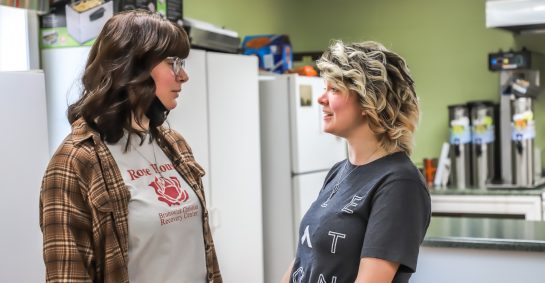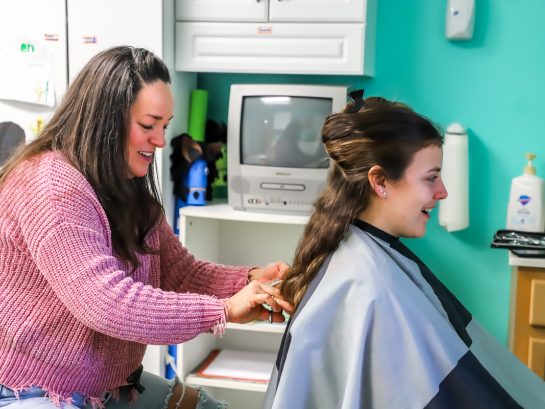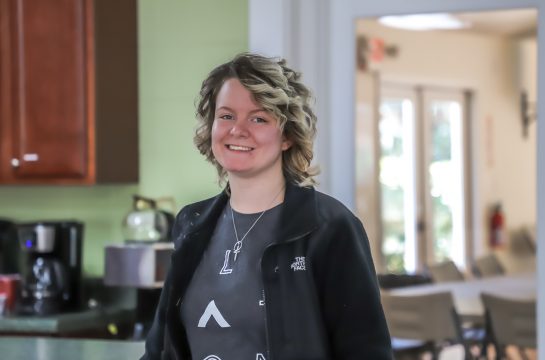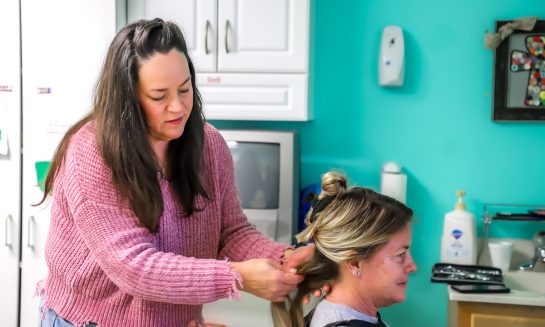 We're thankful for Sami Bracey taking the time to make us feel pretty by cutting and styling our hair. Andrew's Chapel gives so much of their time and resources to CRCI, so thank you from the bottom of our hearts! – Rose House Girls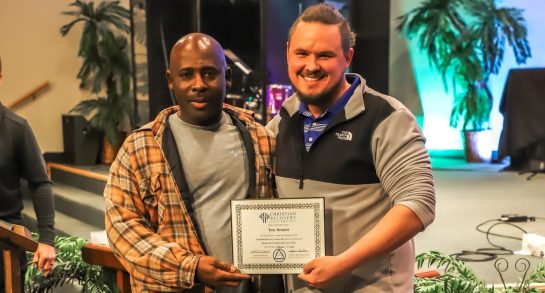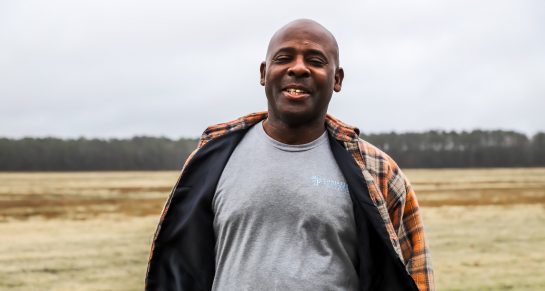 Tony graduated CRCI! Many described him as hard working, motivated, and good company. Completing a program such as Christian Recovery Centers Inc. is demanding in that it expects a lot from the participant. In contrast to life before one must wake up early, work on education, go to church 8 times during the week, reflect and talk about the recovery process, and perhaps the hardest aspect, deal with many other personalities. But to the person who works the program – this new lifestyle becomes second nature, and it turns out it's exactly what you ought to be doing anyways. Many residents have this revelation throughout their journey including Mr. Tony and we're so happy we got to witness it! And a fun fact about Tony is that he likes alligators!
Congratulations, Tony!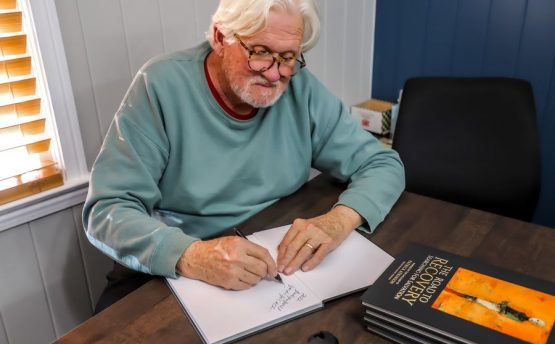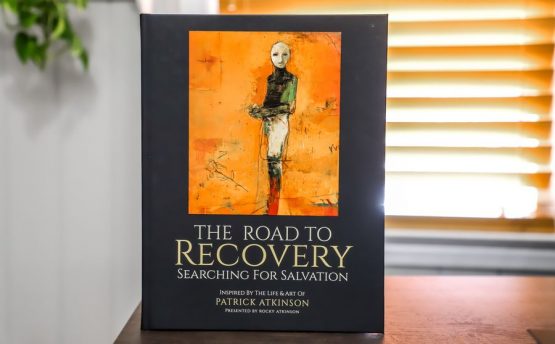 Rocky Atkinson is CRCI's Chairman. Rocky has been involved with CRCI for a decade now and he got involved because his son lost his life to drugs. Rocky's heart goes out to the recovery community. He spends his free time trying to spread the word about Christian Recovery and one of the ways he does this is through his two books "The Road to Recovery, Searching for Salvation" and his latest book "God & Recovery, a Time to Heal." Both books feature artwork from his late son Patrick Atkinson. Coupled with Patrick's contemporary artwork are bible verses and encouraging notes. Rocky generously gives each graduate of the CRCI program a copy of "The Road to Recovery, Searching for Salvation."
If you'd like to purchase one of Rocky's books for yourself or as a gift, all proceeds go directly to Christian Recovery Centers, Inc.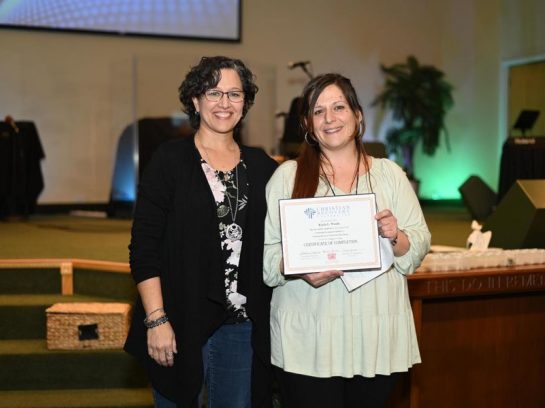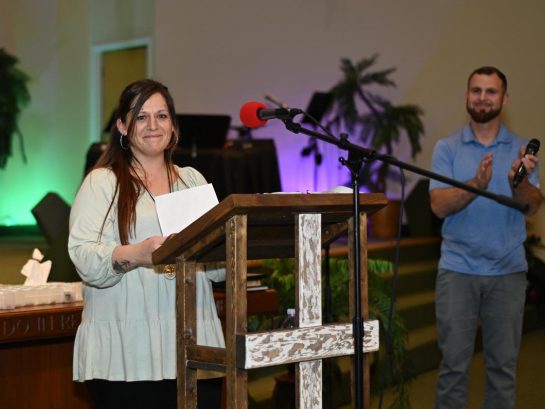 During Kayla's 6 month stay the biggest thing she has developed is her relationship with God. Learning to live her life without drugs in it and turning to Christ. She is excited to stay on as an LDI with the Rose house. While on board as an LDI she hopes to gain knowledge and wisdom to help others in their struggle with recovery and addiction. Kayla's long-term goal consists of being a sponsor for many others. Her biggest joy in life are her two children and she plans to have a house as her own to share with her daughter and son. Kayla was once lost but now SHE'S FOUND! She is a daughter of the King, and she is happy to say that during her journey of finding Christ, she will help her family members find their faith because she agrees that ministry starts within the family.
Congrats, Kayla!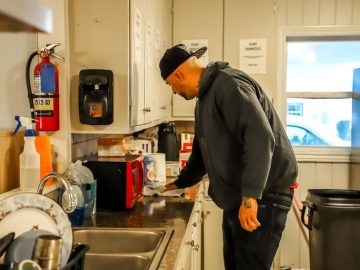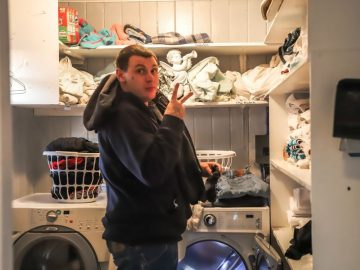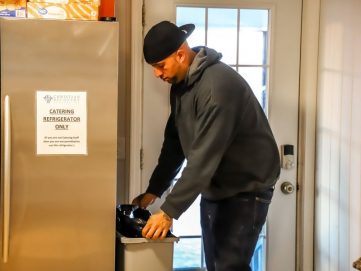 Christian Recovery believes an important part of recovery is responsibility and productivity. These things help to raise self-esteem and our relationships with friends, family, and co-workers. Being a responsible adult has lots of benefits – we'll have much less stress and chaos in our lives, and we will gain the respect of others. Here residents are executing morning chores at the main campus.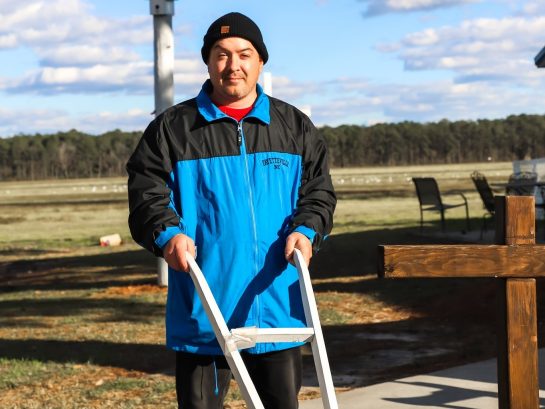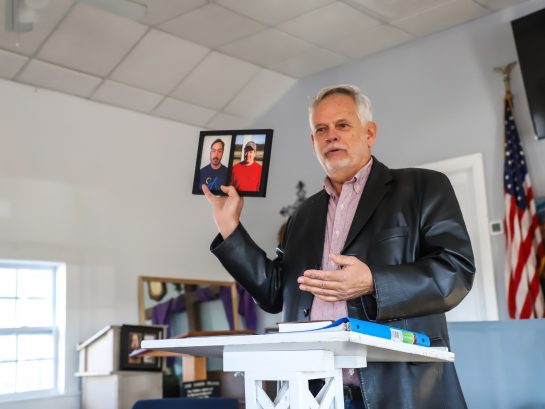 Kurtis graduated from Christian Recovery Centers! His Mom and dad were able to attend. Pastor Tony gave Kurtis his bible, certificate and his before and after photo to help Kurtis remember where he started and where he is heading. Afterwards Kurtis put his hands on the plow and recited this verse 'No one who puts a hand to the plow and looks back is fit for service in the kingdom of God.'" Luke 9:62
Congratulations Kurtis!!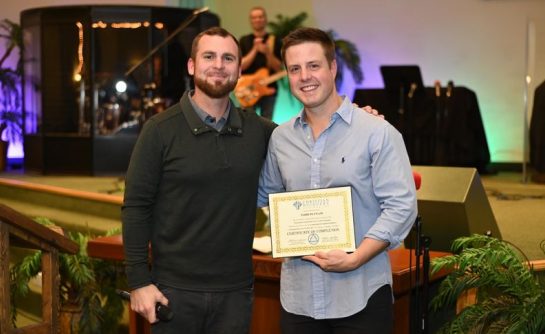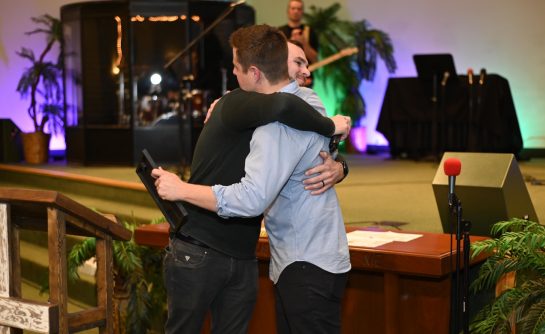 Todd has officially graduated! Many of the other residents expressed how much they look up to Todd and how they feel comfortable talking to him. We're ecstatic to have Todd stay on the CRCI team as an LDI. Todd, you have so much unrealized ability and your capacity to develop into something special in the future is something we are all waiting to see!
Proud of you!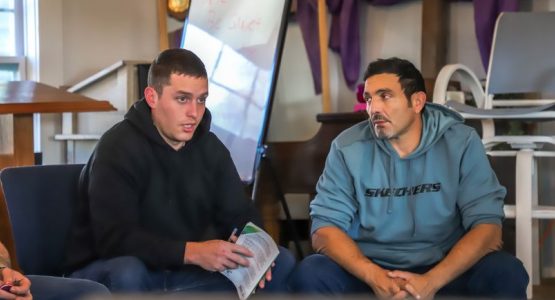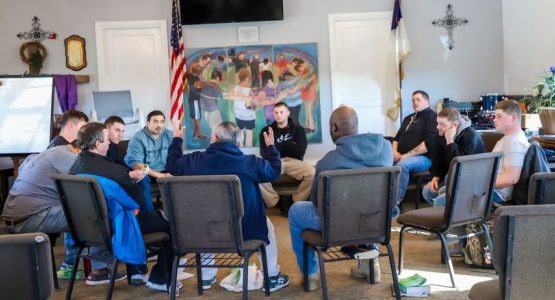 During the daily 12 step meeting residents grab their Life Recovery Workbook and answer 4 questions and spend about 30 minutes with themselves reflecting. Then they get in a group for 1 hour and share those answers. The Life Recovery Workbook is a biblical guide through the twelve steps and CRCI offers a safe place for residents to share their feelings about recovery.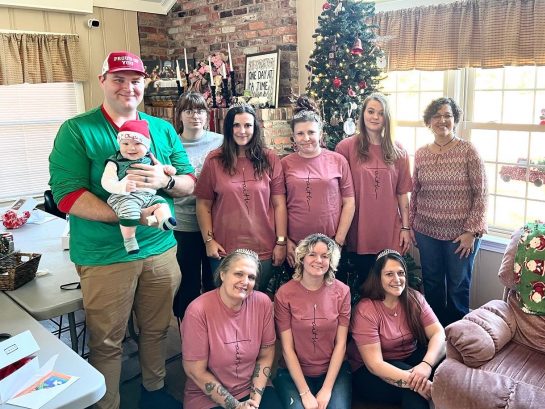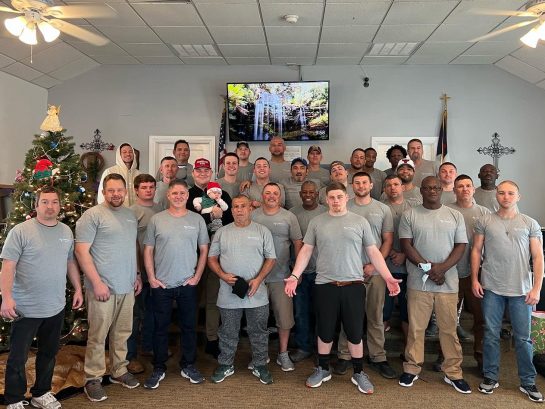 Christmas 2021. Every resident got at least two gifts. Gifts were graciously provided by members of our community. CRCI had an Angel Tree at Lowe's Home Improvement store in Southport and a tree at the local New Life Christian Books and Gifts store in Shallotte. In addition, Jennies Branch Baptist Church donated $100 worth of gifts to each resident's child. We are thankful for all the support shown during the holiday season!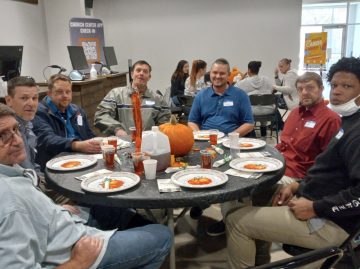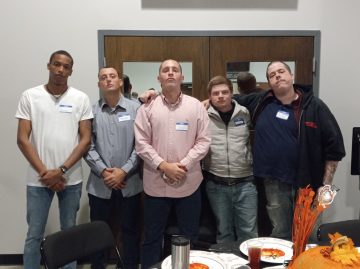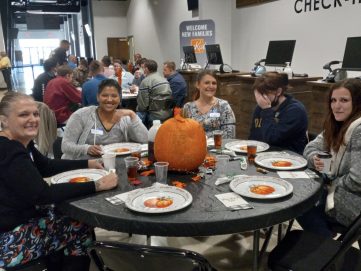 "Thanks" to Generations Church for hosting CRCI's Thanksgiving dinner. We appreciate you taking time away from your family to be with us. The food was delicious but your company was better!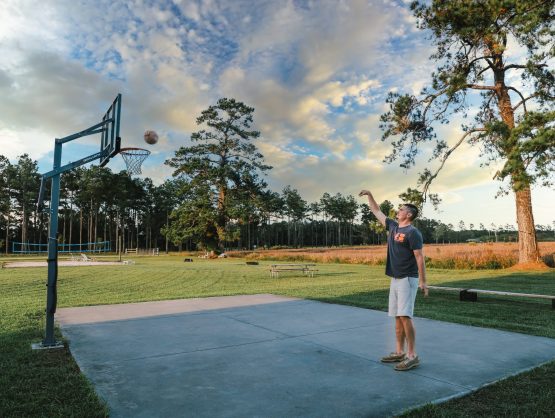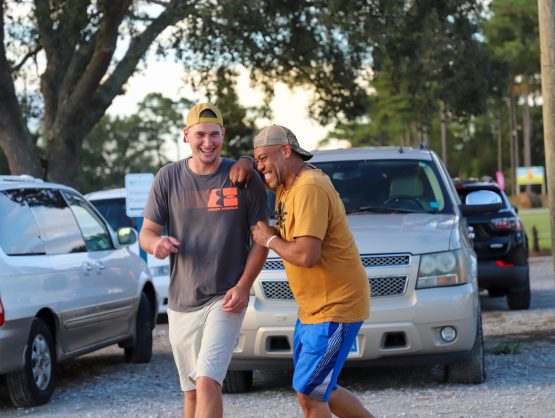 Although we believe Christ is the only one who can fully release us of our stress and anxieties, we understand other activities can help release us too. After a full day consisting of a Chapel service, classes, one on one counseling, project time, it's nice to wind down by playing ball and taking it easy with friends.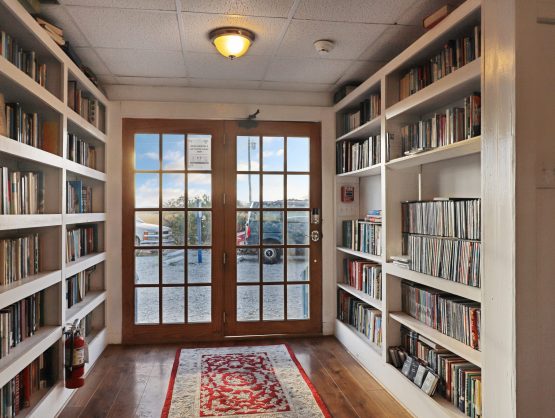 This is the entrance of our chapel on BCRC's main campus. Full of spirit, residents have full access to the library and all the books within it.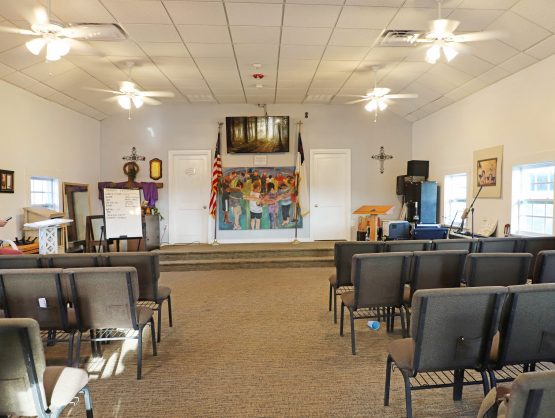 The chapel is a place where we spend a lot of time. It's where we have chapel services everyday, teach class, and pray throughout the day.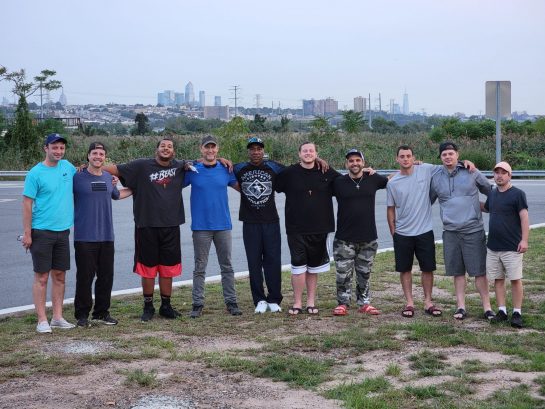 Here is a picture of the guys with New York City right behind them! Some of our residents have never traveled out of state, so this is a much appreciated change of scenery.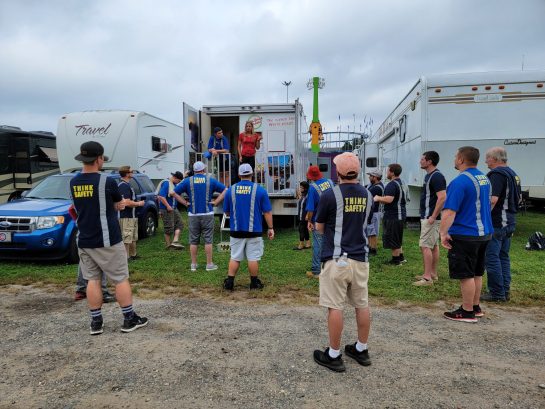 The BCRC men in Springfield, Massachusetts receiving their training on how to set up and operate the water gun games. We do trips like this to ensure that all future residents can come into the program free of charge.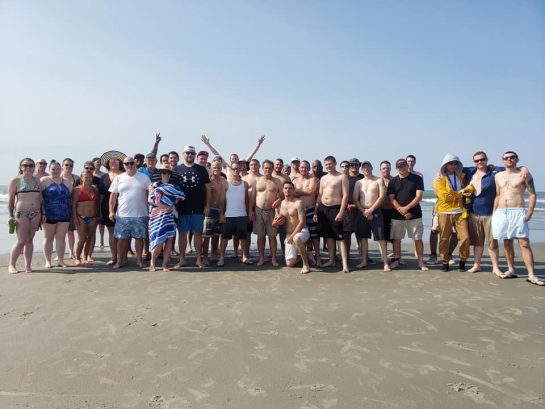 July, 2021 CRCI conducted a beach baptism. Residents who have chosen the Lord as their personal savior were given the opportunity to wash away their sins and publicly proclaim their love for Jesus!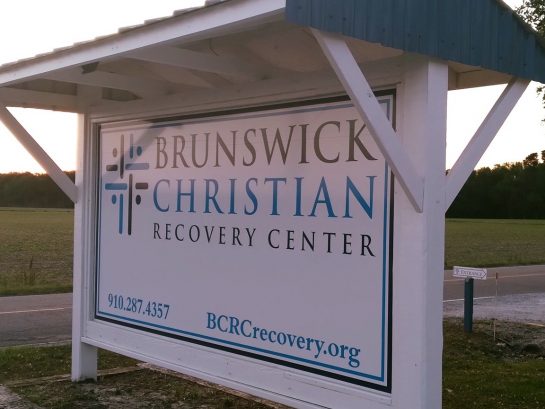 New and improved sign at the men's BCRC campus.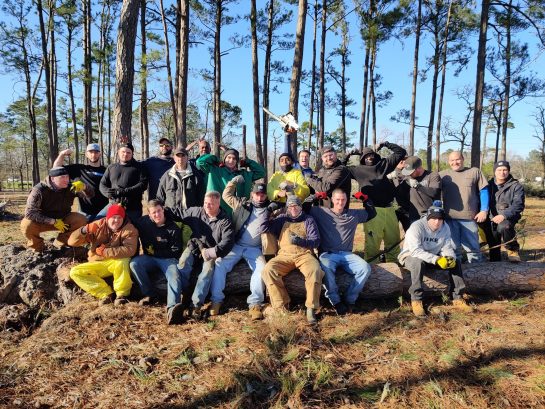 After a devastating tornado hit our community we spent weeks helping our neighbors cleanup.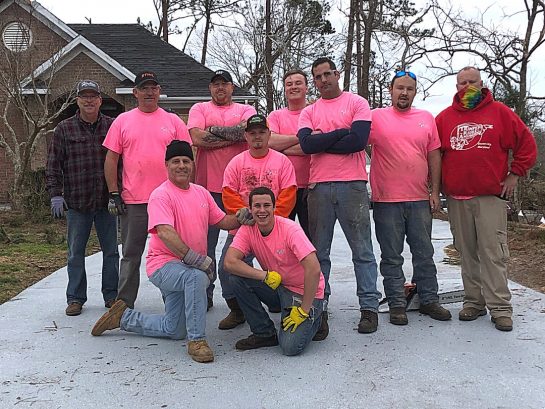 CRCI's landscaping crew got down and dirty to remove debris from the tornado that killed 3 people and left a neighborhood a wreck.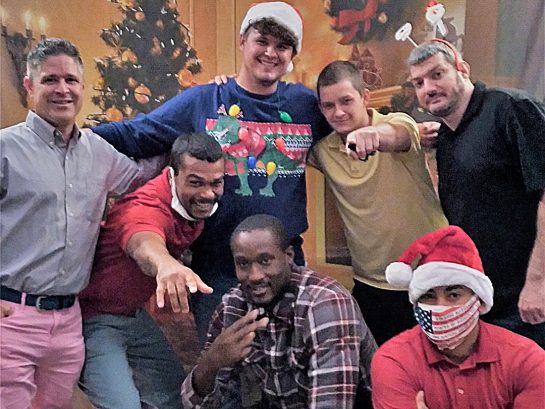 Celebrating Christmas 2020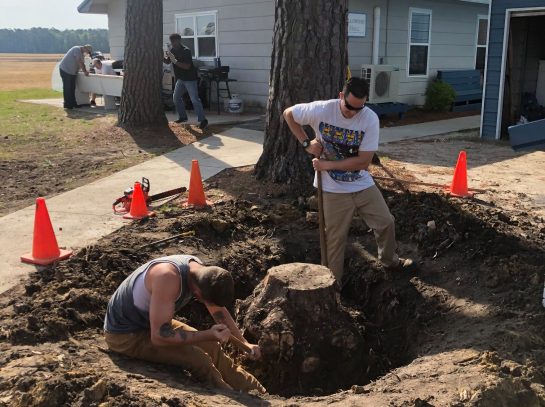 Residents were determined to remove this stump. After days of persistence the stump was finally removed and everyone celebrated the victory!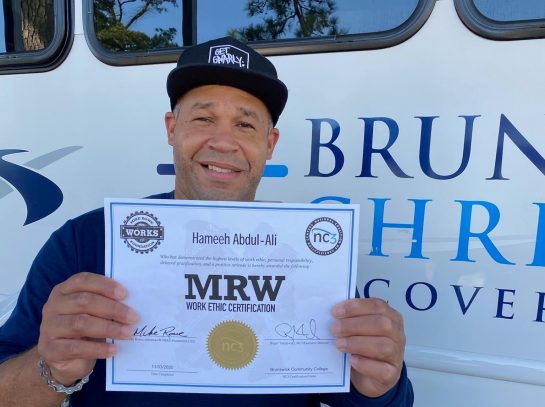 Former resident and intern Ali (along with many others who participated) earned their Work Ethic Certification through the local Brunswick Community College.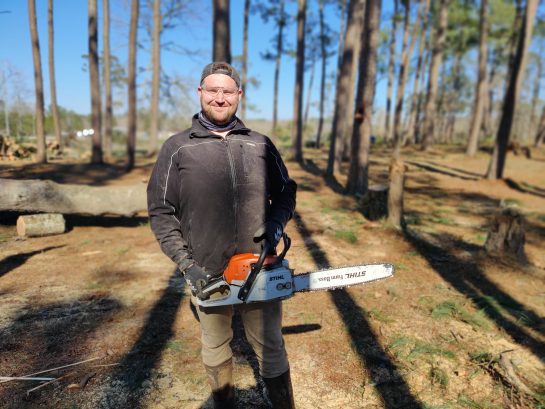 CEO, Josh Torbich with a chain saw to chop trees into smaller pieces to be hauled away.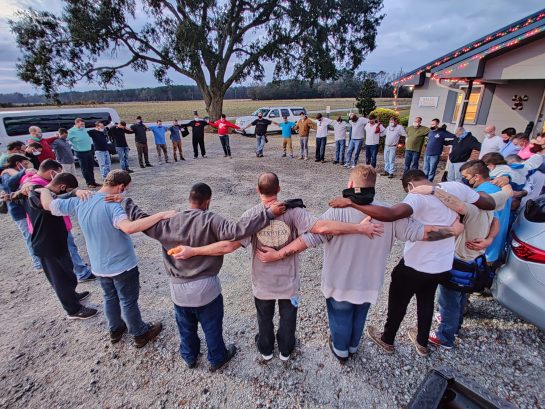 After a resident graduates from the program we gather around like this to pray for the graduate.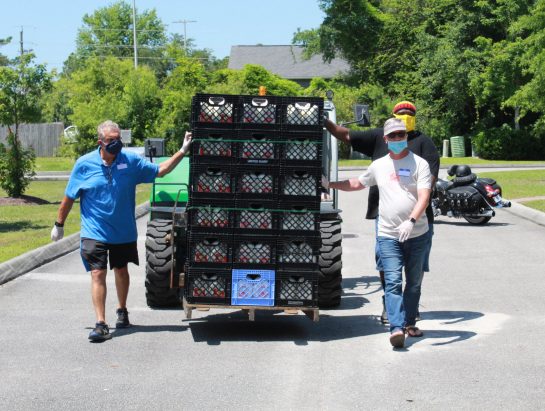 With the help of many volunteers and partners, we passed out thousands of boxes of produce and milk.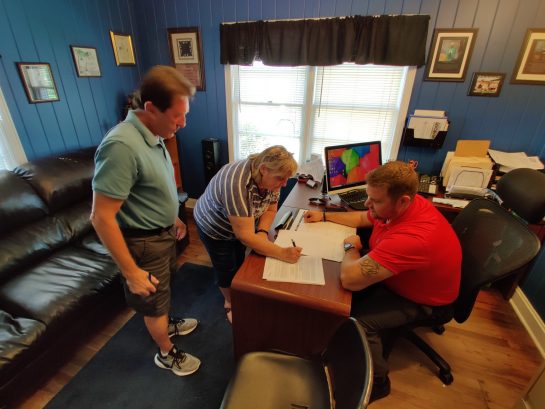 The previous owners of the Rose Bed and Breakfast singed over the property to CRCI in September 2019!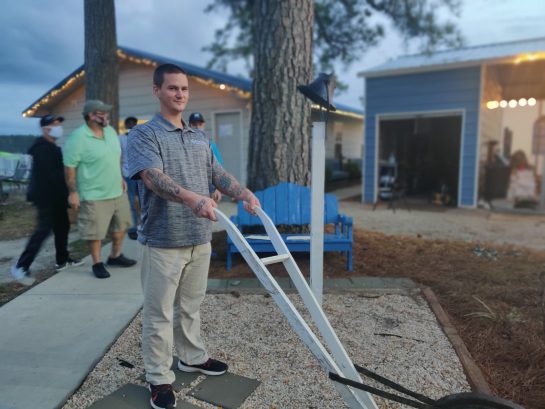 "Jesus replied, no one who puts a hand to the plow and looks back is fit for service in the kingdom of God." Luke 9:62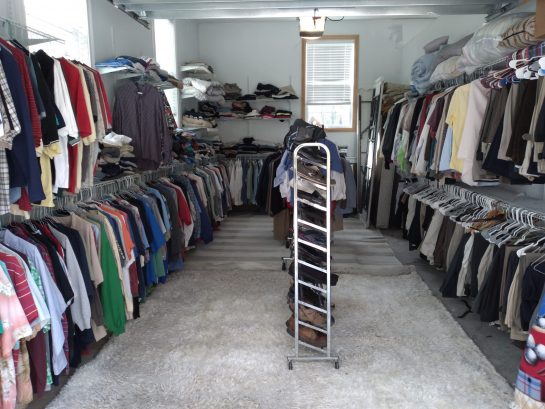 We are thankful for our volunteers! Two very generous volunteers spent several days hanging up shelves and organizing the clothes so program residents can pick out items to wear to church and other functions we attend.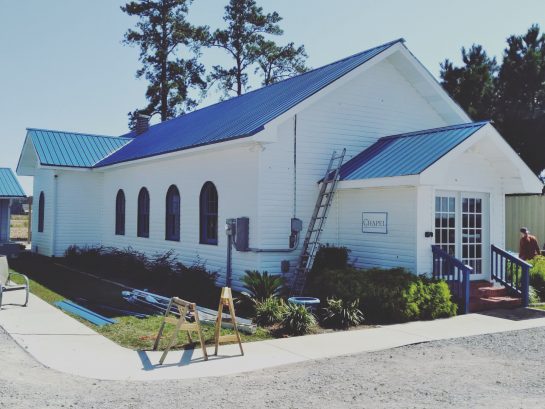 One of our very own skilled residents spent several days putting the new "CRCI blue" roof on the chapel.
Shallotte Christmas Parade 2018. These guys worked hard putting that float together in just three days!
The BCRC guys with Ronnie Netterfield on Thanksgiving day in Land O' Lakes, Florida. Thank you Ronnie for inviting us to your home for Thanksgiving dinner!
Thanksgiving 2017. Andrew's Chapel hosts an annual Thanksgiving meal for the BCRC guys and all of the guys from nearby transitional houses. Thank you!