Brunswick Christian Recovery Center has operated successfully for over 10 years as a men's only facility. For too long we have had to turn away (with a referral, of course!) countless women seeking assistance with a drug or alcohol abuse issue. After much effort and research, we are finally in the process of opening the area's first FREE faith-based women's recovery center! With a few adjustments, our women's program will largely be based on the curriculum that we've had so much success with in the men's program. We feel that having an open line of communication between residents and the staff who can truly understand their position is a major asset to the recovery of the residents in our care. We believe that each BCRC resident should be led into a position of leadership to further their recovery by assisting those who will follow in their steps as they walk toward living a successful life!
07/01/2021 Update:
We have officially welcomed our new women's program director to the team! Her name is Monique, and she has been a local business owner for many years, but has recently had a call in her heart for change to dive deeper into her desire to serve the kingdom of God! She found a place at the perfect time when we had an opening for a new Director at the Rose House, and she dove right in! This energetic, kind woman who is full of integrity has taken on the full burden of developing an entire recovery program based on the men's curriculum, and implementing each step in the proper way to serve the best interest of her current residents. She admits that first two months was a challenge, but also talks about the rewarding feeling you get from seeing such progress! As we operate on a smaller scale out of our Columbus campus for the near future, progress at the Rose House campus has continued again. COVID might have slowed us down, but it didn't break us! We are here to serve the will of God, and he strengthens us daily!
07/15/2020 Update:
Christian Recovery Centers Inc has received an awesome award form the NC housing finance commission for rose house capital expenses. We are behind schedule with the opening of the facility but are well on our way to the grand opening of this residential treatment center for women. We are still looking for commitments in many other projects for rose house including our on site playground area for our residents children to have a place to visit. Please consider being apart of transforming lives at Rose house.
05/28/2020 Update:
The staff and board of Brunswick Christian Recovery Center would like to welcome Sophia to the team! Sophia will be the pioneering Resident Manager for the Rose House and we look forward to having a dependable lady on our team to support the needs of the future women of the Rose House. Sophia has found great success in her personal recovery and professional life and the Rose House will be blessed to have her on board to handle even the most sensitive issues we may encounter.
01/15/2020 Update:
We have officially begun interviewing for The Rose House position of Director of Operations. This is a huge step in the name of progress for what will be an incredible journey for the women who will find their way to hope and life in the 16 week program. Click HERE to be taken directly to the application page, where you can view the role responsibilities and requirements and upload a résumé if you have one prepared.
01/09/2020 Update:
We have been approved! After officially obtaining the Rose House in November 2019, we have been working towards our goal opening date in March of 2020. That's just two months away! Our Executive Director has been working tirelessly with county officials to have all of our building plans and occupancy approved, and it looks like all of our boxes have been checked! Remembering that all things are possible through the power of the Lord has been a recurring theme in our staff meetings, and He never fails to remind us of his might! Praise God for literally opening doors for the BCRC ministry to continue and to expand into new territory. We will be opening applications and interviews this month for the women's Director position and for intern staff positions as well.
09/12/19 Update:
We are almost there! Only a few months away from beginning renovations on The Rose Bed and Breakfast to accommodate more residents and staff on the property. We have a particular vision in mind: a beautiful house on a most serene landscape to facilitate the calm, faith-building mindset each lady will develop during her stay at The Rose House. Here is a photo (below) of the house: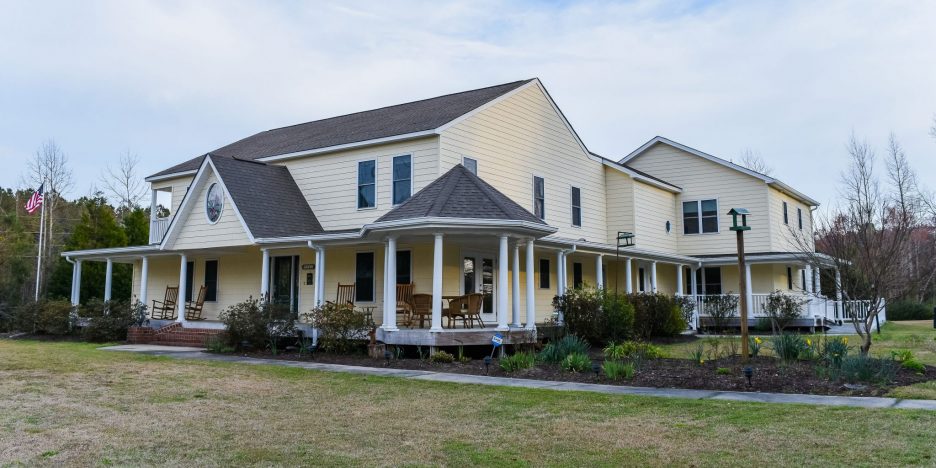 Current Funds Raised:
100%
SUCCESS!
With your generous assistance we have successfully raised 100%
of our initial build cost for the Rose House Capital Campaign!
The annual BCRC Charity Golf Tournament 2019 was a huge success! We would like to extend a huge thank you to all of our supporters, sponsors, and players for your dedication to a cause we so desperately believe in. We have officially announced The Rose House capital campaign and (after the golf tournament) we are beginning our efforts with $180,000 raised of our $650,000 goal. This is an incredible start to an incredible journey! The Golf Tournament alone helped raise over $37,000 of these funds and we couldn't be more impressed with the community support behind this mission. All of this effort is going to enable Brunswick Christian Recovery Center to open the area's first FREE, Faith-based residential recovery program for women. This is a much needed service in the Southeastern NC/ Northeastern SC area and we are blessed to be in a position to follow God's will and purpose for helping hurting people.
Brunswick Christian Recovery Center is a non-profit, faith-based ministry serving those suffering from active addiction. We are not a traditional short-term rehabilitation facility. We offer an extended program of directed activities that stretch from remedial or supplemental education of the individual all the way to daily application of newly learned skills.
This is a proven program of recovery that absolutely works for anyone willing to adopt it. The residents not only study the spiritual principles that foster sobriety, but with the help of a 12-step program, begin to build a bright new future by working to erase the wreckage of their past.
Psalm 34:88 
Taste and see that the LORD is good; blessed is the one who takes refuge in him.