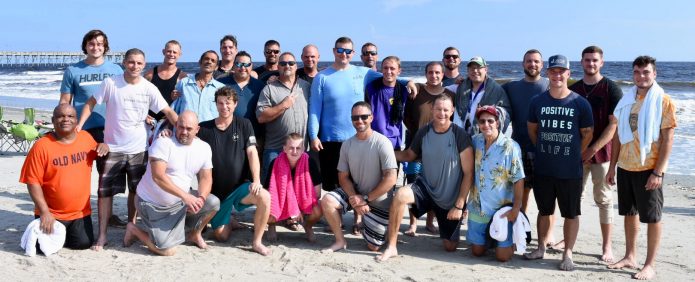 The BCRC Men's Program is a 16 week recovery process that incorporates a faith based recovery theory, the 12-step process as laid out by Alcoholics Anonymous and Celebrate Recovery, and educational benefits provided through Brunswick Community College. This all-encompassing program joins the strengths and benefits from many aspects of what a successful life in recovery looks like: regular church attendance, group and individual therapy, and healthy work ethic development activities. These activities include community service, leadership training and application, and paid work opportunities through our WRP program that will allow every graduate to depart from the program with some level of financial gain to assist with the initial cost of a more independent living situation.
During the first four weeks of the program our aim is to provide a structured environment for spiritual growth. BCRC does not offer conventional drug and alcohol treatment or MAT services. Our program is designed to encourage recovery by developing a relationship with Jesus Christ and working the 12-step program. We have proposed a continuous plan of action that incorporates recovery theory into long-term daily living. Residents will work with temporary sponsors and and group leaders to learn how to do a moral inventory, confession of shortcomings, restitution for harm done, and service to others. Contact with family is limited during this time to allow each resident to engage in a more personalized focus and to gain an initial understanding of what kind of life change they are seeking before introducing external influences back into their lives.
Each of us should please our neighbors for their good, to build them up.
-Romans 15:2 
After completion of the initial four weeks, each resident will be reviewed by staff and senior residents. The areas of review will include spiritual growth, personal responsibility, compliance with rules and regulations, trust, willingness, and active recovery. These areas will be addressed to determine where additional improvement is needed and to determine if the resident will be approved to move into Phase II of the program. In phase II residents will begin to take on more responsibility and will have plenty of opportunities to begin building more trust with the leadership. If a resident determines that they are not ready for phase II they will have the opportunity to delay the transition for a period of up to 21 days.
Be still in the presence of the LORD, and wait patiently for him to act. Don't worry about evil people who prosper or fret about their wicked schemes.
-Psalm 37:77  
During phase III each resident will have an opportunity to spend more time growing as as leader and developing their exit strategy to encourage a heightened sense of confidence in their recovery. We have learned that initiating a well-planned "follow through" is very important to introduce all that one has learned during the program into the rest of their life.
Traditional leadership generally involves the accumulation and exercise of power by one at the "top of the pyramid." By comparison, the servant-leader shares power, puts the needs of others first and helps people develop and perform as highly as possible. We teach and encourage the men to have a servant leadership attitude.
Our hope is that every resident will be able to share their positive experience in an active recovery lifestyle with another person as they find success in their future. We believe that the student doesn't truly learn the lesson until he becomes the teacher.