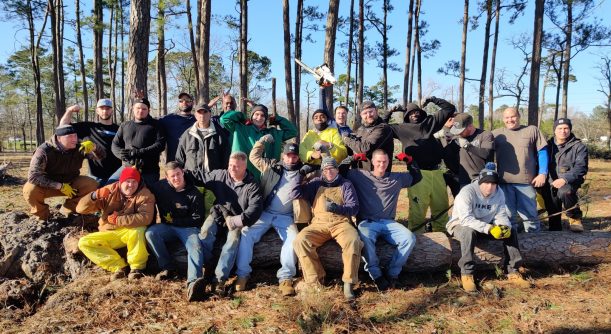 The BCRC men celebrating a successful cleanup after volunteering to help our community impacted by a tornado
Residents enrolled in a CRCI program will have the chance to seek and follow through on many opportunities that may have otherwise been unavailable to them. CRCI is currently offering several educational and professional redevelopment programs to help residents exceed beyond their most basic expectation of "getting clean." We are offering a GED achievement program in partnership with the Brunswick Literacy Council, where residents may graduate with a full GED. We are also partnering with Brunswick Community College to provide college-level certification courses for various types of professional and trade skills.
Beyond education, CRCI has initiated a Workforce Redevelopment Program. The purpose of the Workforce Redevelopment Program (WRP) is to better assist each resident in the search of meaningful employment after satisfactorily completing the treatment curriculum. It is the goal of CRCI to produce opportunities in the residential treatment setting that will translate into lived experience, training hours and resume items for future employment. These opportunities will help to alleviate the unattractive gap that recovery participants incur from their months in residential treatment. This process will also provide certain residents recommendation letters from their immediate supervisors that can be utilized in the next employment opportunity.
The Workforce Redevelopment Program (WRP) works with 4 primary trade service industries.
Catering

Landscaping & Pressure Washing

Commercial Cleaning

Administration Assistance & Leadership Excellence
Like many Recovery Centers, after successful completion of the program, the opportunity to be invited onto the CRCI Intern Staff may available for select individuals.
Interns will continue to learn and grow in your relationship with Christ as well as continue on to work the 12 steps with a sponsor. 
During this time, interns will be engaging with other men as they offer guidance and experience while on the road to their own personal recovery.
The goal of the intern staff program is to enable residents who have excelled in a CRCI program (and in their spiritual growth) to remain on the campus for extended periods of time. This will enable them to give back to the program and to give other residents what they have freely received. They will help lead other residents to a saving knowledge of Jesus Christ and to mentor the newer residents in their journey to find peace, hope, and joy through a closer relationship with an almighty God. 
Realizing that some qualified residents may not be able to remain with the recovery center due to financial and legal situations, it is a goal of CRCI directors to help some residents meet their financial and legal responsibilities by giving them a salary or other financial aid. This will begin to ease the pressure of their past while they are in the process of building their new future.
The goal of CRCI should not be only to help residents and staff members while in the program, but also to assist them as they depart to continue their spiritual journey. CRCI should help all staff members in securing their driver's license, save money to go to a halfway house, pay required legal fees, and to prepare them for their next step after leaving CRCI. These things should be determining factors in salary consideration, financial aid, and also determining whether staff will be allowed to work off-campus.
Come to me, all you who are weary and burdened, and I will give you rest.
-Matthew 11:28